Kite Surfing Village is located in front of a lagoon with water 7km always flat and low. There are also two other smaller but deep lagoons and a 5km sandy beach with turquoise sea.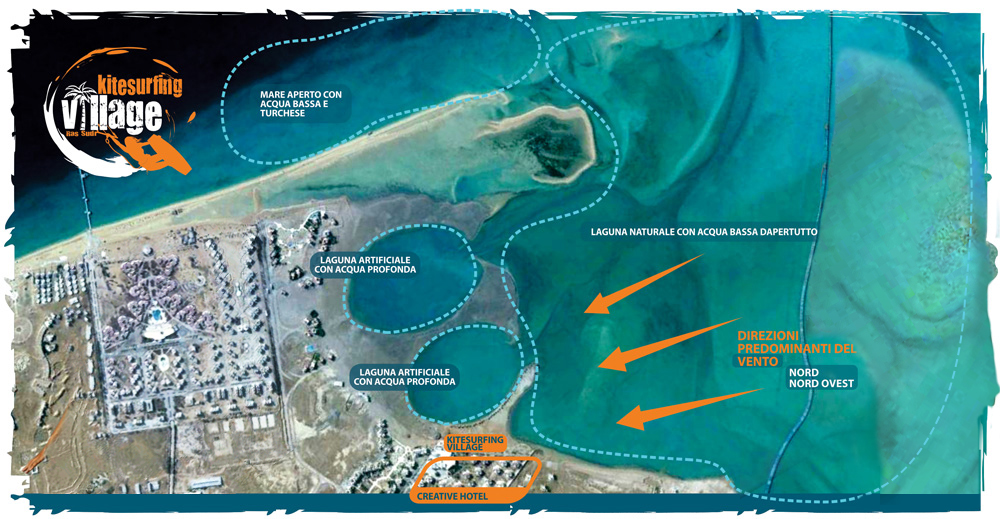 The total absence of corals and rocks but only sand, makes this spot extremely pleasant and safe. Also, given the particular geological, spot offers extremely stable thermal winds of medium intensity on most days, making this the perfect place for those who still needs to learn to stay on the board, is for professionals who want to practice more advanced tricks.
We also offer the possibility to organize fantastic downwinds in the turquoise sea. Sea where you can often inostrare shoals of sociable dolphins will accompany you for part of your journey! A unique experience!
This incredible spot together with our staff always friendly and helpful will make your holiday a "perfect kitesurfing vacation"!
Kitesufing Village – Il Centro Kite
The kite center is located within the fully renovated (October 2012) Creative Green Resort **** and its lagoons. After a hearty breakfast buffet you can reach us at the kite center located a few meters from the restaurant. Our staff will be ready to set up your equipment according to your requirements. Or to discuss together for a Standard or custom!
Il Kitesurfing Village is structured as:
The relaxation area

A large relaxation area with comfortable sofas, televisori HD con SKY in italiano, tables and cane chairs are waiting for you to relax between sessions and another. Our relaxation area is covered by Wi-Fi service for a fee.

La SPA

NEW' 2014. ESCLUSIVO AL KITESURFING VILLAGE, we completed the new wellness area with air conditioning Hot Tub heated, Sauna finlandese, Bagno Turco and relaxation area with ergonomic beds.

Il Bar

At our bar you will find almost every kind of drink, Espresso, frullati, centrifugal, milk shake e cocktails.

Le docce calde

Exclusive to Kite Village in Ras Sudr are 3 spacious hot showers. How much better can you ask for after a kite session.

The locker room

A dressing room with hairdryer, plate and lockers for small items is available to customers Kite Village in Ras Sudr.

The office

Our Alessia will be glad to welcome you on arrival at our kite center. Alessia will take your orders for lunch and make you fill out forms for the use of the spot.

Lo storage

One storage with large closets is reserved for clients of Kite Village to deposit their kite gear.

The Sun

A wide area with comfortable loungers, hammocks and tables, is dedicated to those who want to relax or sunbathe in the company of good music. They are available in both areas of sun to shade.

The private storage

A large warehouse is dedicated to the storage of our equipment. Over 30 brand new kites and boards are always available to our customers both for courses for hire

The arena

In May 2014 we have equipped an area with TRX and some fitness equipment for irriducbili of physical
Our team is always available to try to accomplish your request. For quotes and / or information click on this link and contact us. We will respond in a very short time!
.