Where is located: (Excellent)
The Creative Green Resort is located on the spot OWN. That is looking out from your room you can see the Kite Village under you.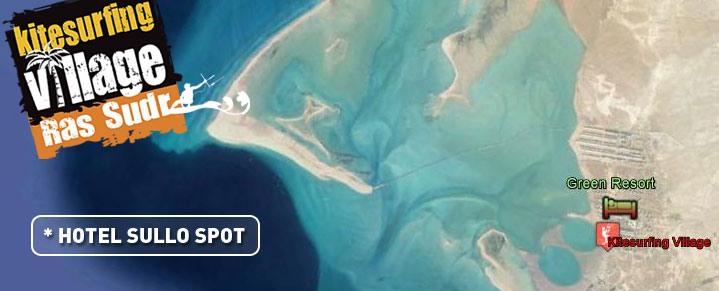 The Structure: (Good)
Il Creative Hotel is a structure characterized by medium-sized housing in the form of small houses with within each eight rooms. Four of them are "normal" and four are suites. The main building houses a large restaurant, e reception. Outside there is a swimming pool and extensive gardens full of plants and flowers well-maintained. The structure can be described as ideal for a holiday dedicated to kitesurfing.
The rooms: (Good)
The Creatie Green Resort offers two types of rooms. The standards and "suite". Each of which are used both for double use that single. The standard rooms offer a medium sized bedroom and a large bathroom on average. The rooms are suites offer'large bedroom with a sitting room and a large bathroom. Almost all the rooms reserved for clients of the Kite Village overlook the beautiful lagoons. All room offer air conditioning, television, 220v electrical outlets with standard Italian, frigo bar e telefono. Linens and towels are provided at Hotel. Room cleaning is done daily.
The food: (Very Good)
In the spacious restaurant are offered breakfast and dinner a la carte or buffet depending on the number of guests attending. Through the recruitment of a highly qualified chef May 2014, the food offered is presented in excellent quality and good variety. Fruits and vegetables are STRICTLY washed with mineral water bottle.
The chef is also always available to satisfy your needs whether you are vegetarian or whether you have other special requests. Kitesurfing Village Hotel has imposed to maintain high quality standards regarding the quality of the food offered to their customers. The Creative Resort does not offer other dining facilities outside of the lunch dinner. Quite the contrary at our Kite Village you will find rich dishes of fresh fruit mixed, snacks of all kinds, milk shakes, centrifuges for fruit and vegetables, beverages, and great food (Custom): from pizzas, the former to the latter salads.
Services and entertainment: (Sufficient)
The Creative Green resort does not offer entertainment services nor. What largely offset by Kite Village Ras Sudr that provides entertainment of various kinds: on television with Sky HD in Italian (all subscriptions Sky), to a sound system and lighting system from 6000watts for evening parties, mountain boards, area chillout e NOVITA' 2014, a spa area with heated spa, hot tub, sauna finlandese, turkish bath and a relaxation area with ergonomic beds. The spa is free for guests of the Kite Village in Ras Sudr, but subject to compliance with the rules.